BeatLife was originally commissioned by Brouhaha International to create a performance piece for the 2003 Merseyside Street Festival.
Percussion workshops were held in Windsor St., St Silas and Kingsley primary schools with all schools coming together to perform at the Liverpool carnival.
The success of this led to interest in continuing the project and Brouhaha agreed to recommission BeatLife for the 2004 festival.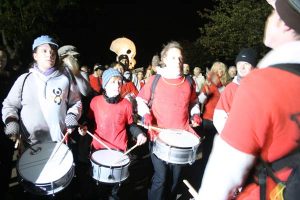 September '03 to July '04 saw after-school clubs set up at St Silas, Windsor, Shorefields, Gilmour, St Austin's and Kensington.
BeatLife performed at the Anglican and Metropolitan cathedrals, Black History Month, Blackburne House, the Lord Mayors Parade and Urbis in Manchester.
From April '04 all schools rehearsed together and, supported by adult brass and percussion, were showcased at the Philharmonic Hall and Liverpool Carnival.
During this year, the adult band also played at carnivals across the country, including Bristol, Leeds and London, and travelled to Portugal to perform at Lisbon's Avanti Festival.
In 2005, it was decided to use one school in each area as a centre for BeatLife activities. Workshops were held in Windsor (Toxteth), Gilmour (Garston), and St Sebastians (Kensington). A teenage club was also set up in Allerton, so that children leaving primary education could still participate.
BeatLife performed at the Maritime and World museums, St Georges Hall, the Town Hall, Oldham International drum festival, the Palm House, North-west Baftas, Children's Festival, Liverpool Lantern Carnival and the Philharmonic Hall.
BeatLife won two categories at the Toxteth Educational Trust awards – Best Cultural Group and Simply the Best-Education. The adult group performed at the Turin Street festival (Italy) and Abolition of Slavery festival in Reunion (E. Africa).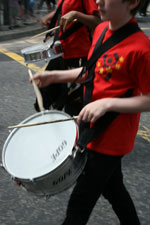 At the beginning of 2006 BeatLife secured sponsorship from Alliance and Leicester to cover equipment, costumes, workshop leader wages and transport for the next 12 months.
A central venue was secured where the band, could rehearse together and a number of ongoing posts were created to assist in teaching and supervision.
BeatLife performed at Oldham International Drum Festival, Lord Mayors Parade, Africa Oye and Brouhaha International festival launch, delivering a show featuring drummers, brass musicians and professional dancers. As a result of this, the band were commissioned to do the musical finale of the Liverpool Lantern Carnival in October and in December were named Best Cultural Group by TET for the second successive year.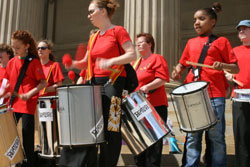 By the start of 2007, BeatLife had successfully made the transition to become an independent not-for-profit arts group with its own constitution and board of trustees.
The focus of 2007 was "Routes2Rhythm" a project exploring through drum and dance the movement of rhythms from West Africa to the Americas and its influence on modern popular music.
The Arts Council, Expanding Horizons, Awards For All, Arts and Culture Unit, Liverpool Network Fund and Liverpool Capital of Culture funded Routes2Rhythm, with workshops held in brass, break dance, street dance and percussion.
As part of the project, guest tutors including members of Vamos [Uruguay] and Meninos Do Morumbi [Brazil] also led workshops.
Routes2Rhythm was showcased at Africa Oyé, Brouhaha International, Children's Festival, Lord Mayors Parade, Liverpool's 800th Birthday Pageant, Liverpool Lantern Parade, the opening of the International Slavery Museum and the British Council, London.
The adult band also took the project to the Oslo International Mela, Ankara Youth Arts Festival, Turkey, and the Lake of Stars Festival, Malawi. Whilst in Malawi, BeatLife set up a link with Chikale School, Nkharta Bay, and children/teachers in Liverpool.
In 2008, BeatLife became entirely self funded through commissioned workshops and performances. The youth orchestra was expanded to include a new group in Garston for parents and children leaving primary education, and BeatLife played a prominent role in Capital of Culture events throughout the year.
Highlights included performing for the Queen at the Liverpool Arena, the Streets Ahead festival, launching the Childrens Festival and taking part in the finale of the Lantern Carnival.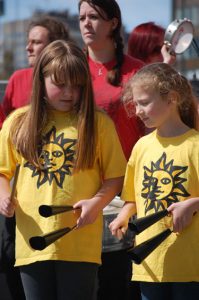 Internationally, BeatLife developed its links, taking part in the Oslo International Mela, and organising a youth exchange in association with Norways Kulture Festival. On this latter date, young people from BeatLife taught primary school children in Oslo and the programme was so successful that funding was immediately secured for ongoing workshops with local artists.
In October, BeatLife returned to Chikale School in Malawi, where the young people had formed a band using instruments donated in 2007. The two groups worked together to do a carnival in the local town, Nkhata Bay, which the district commission would like to see become a regular event.
On arriving back to Liverpool, the BeatLife team secured funds for Chikale School to build a new classroom for its growing number of pupils.
In 2009 BeatLife successfully appled to become a registered charity. Workshops and performances continued throughout the year, with the Garston and Elm Hall groups combining. In December, BeatLife organised its first encontro, featuring Liverpool members and 4 primary schools from Leeds, with approximately 100 people playing together.
With charitable status secured, BeatLife are looking to expand their workshop programme in 2010 by setting up 8 more youth drum groups across the city. We are hoping to feature all of these together in Liverpool's first youth encontro with up to 300 people playing at the same time!